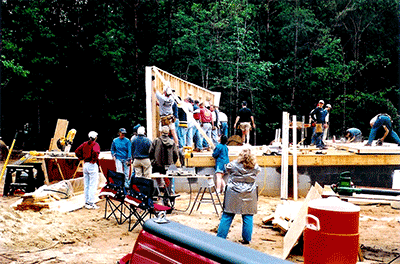 Get Involved
Getting involved in Habitat for Humanity is both rewarding and fun – just ask any of the thousands who have already volunteered! Here are just a few examples of how YOU can put your talents and time to work helping Habitat for Humanity of Goochland:
Volunteering individually or as a group to help Partner families build their homes
Offering your professional construction services to help supervise non-professional volunteers at a job site
Offering your non-construction professional services (e.g. Printing, Legal, Media/Public Relations, Social Work, Surveying) to achieve our goals at the lowest cost  
Providing donations in the way of land for new Habitat home sites, building supplies, appliances, office supplies, or monetary funds (see Donate tab)
Inviting a speaker from the HHG board to make a presentation at your place of work to build support for our Mission in Goochland
Praying for the continued strength of the Habitat Mission
Contact Us
Ready to Get Involved?  Please go to the Contact page and let us know how you'd like to get started!
---