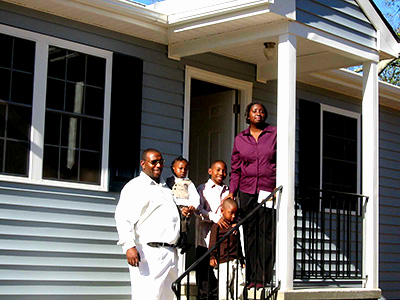 Our Mission:
Help Build Houses and Hope
A decent home is where everything begins for a family. With the help of your generous donations and volunteer work, families in Goochland County can attain safe, affordable housing that can truly change their lives.
The mission of Habitat for Humanity of Goochland County, an interdenominational Christian housing ministry, is to seek to eliminate substandard housing from our community and make decent shelter a matter of conscience and action.
---
Top News Story
On October 25, members of the Habitat for Humanity Goochland Board of Directors hosted the Dedication Ceremony and Celebration for the Cooke family to receive the keys for their new Habitat Home.
Moving into the 21st home completed by HHG are Latoya Cooke (far right), her son Tyle Johnson and daughter Jasmine Johnson and Latoya's mother Theresa (not pictured). Tyle is a sophomore at Goochland High School and Jasmine is in the 7th grade at Goochland Middle School.   Latoya had applied for a HHG home several times and expressed her gratitude in finally being selected.   Through the family's relentless sweat equity in helping with construction, and the help of other volunteers, the Cooke's home was finished in time for them to be Home for the Holidays!